Making the future of Unified Communications tangible
Envision how BT can help SME's improve their internal and external communications in 2020 and beyond.
BT Business via Splendid Unlimited
Lead UX designer. It was my responsibility to liaise with BT to define scope, checkpoints and deliverables. For the ideation and UI production I managed and worked with two designers.
The first thing I did was a domain audit to identify and understand trends, propositions and best-in-class examples. It turned out Unified Communications is a complex beast with many branches, so to ideate around this topic I needed more focus.
Luckily BT had a set of business personas I could use to filter out irrelevant areas of the domain. Based on the personas I developed a set of behaviour- and needs-driven scenarios to use in a scope-definition exercise with BT.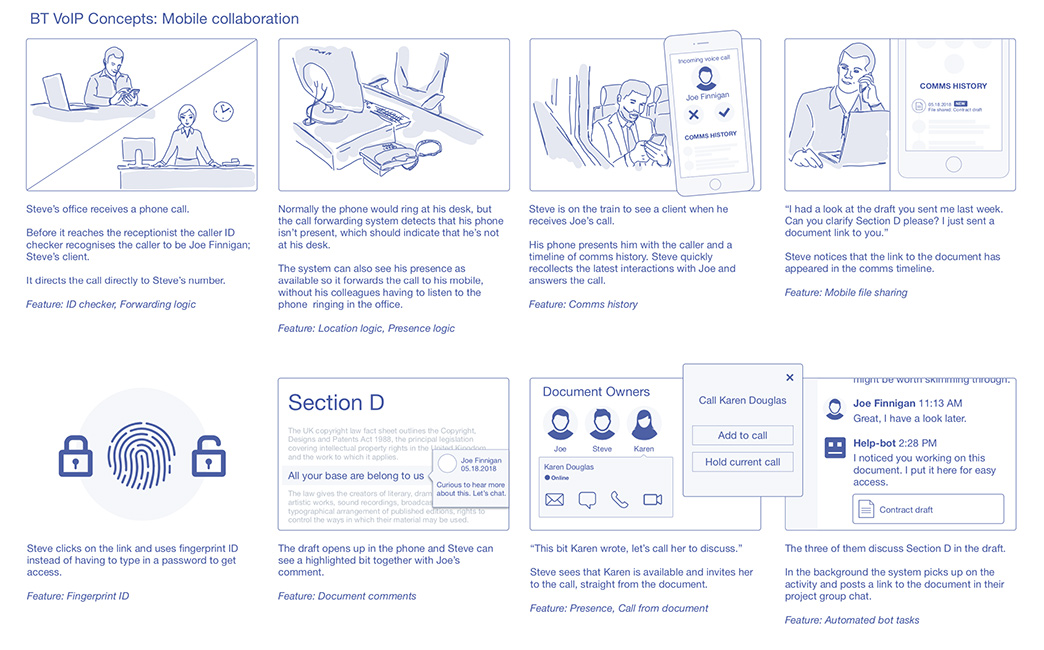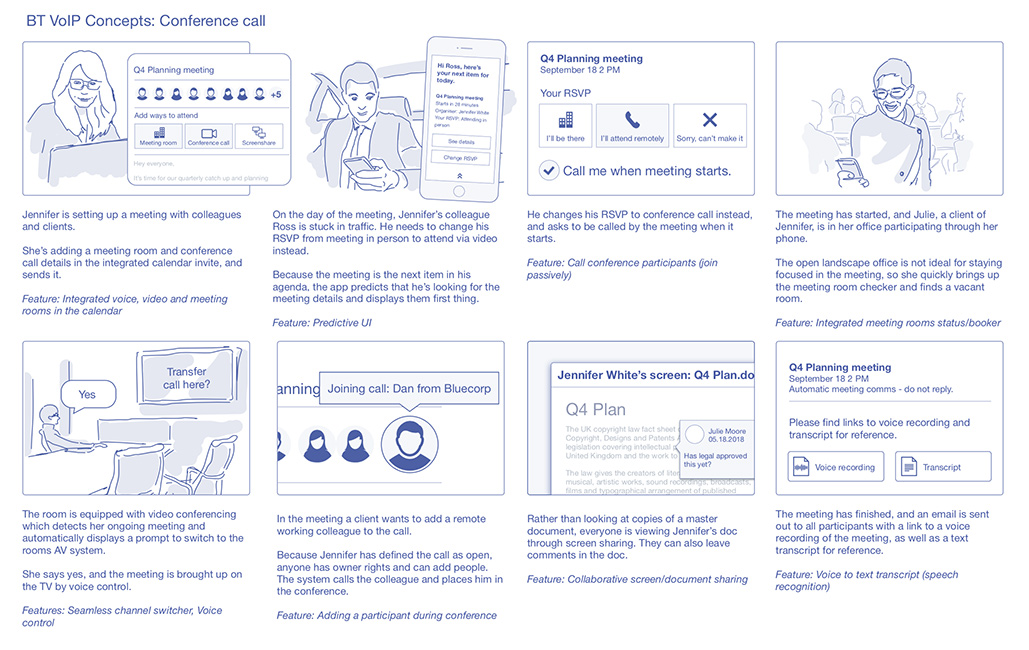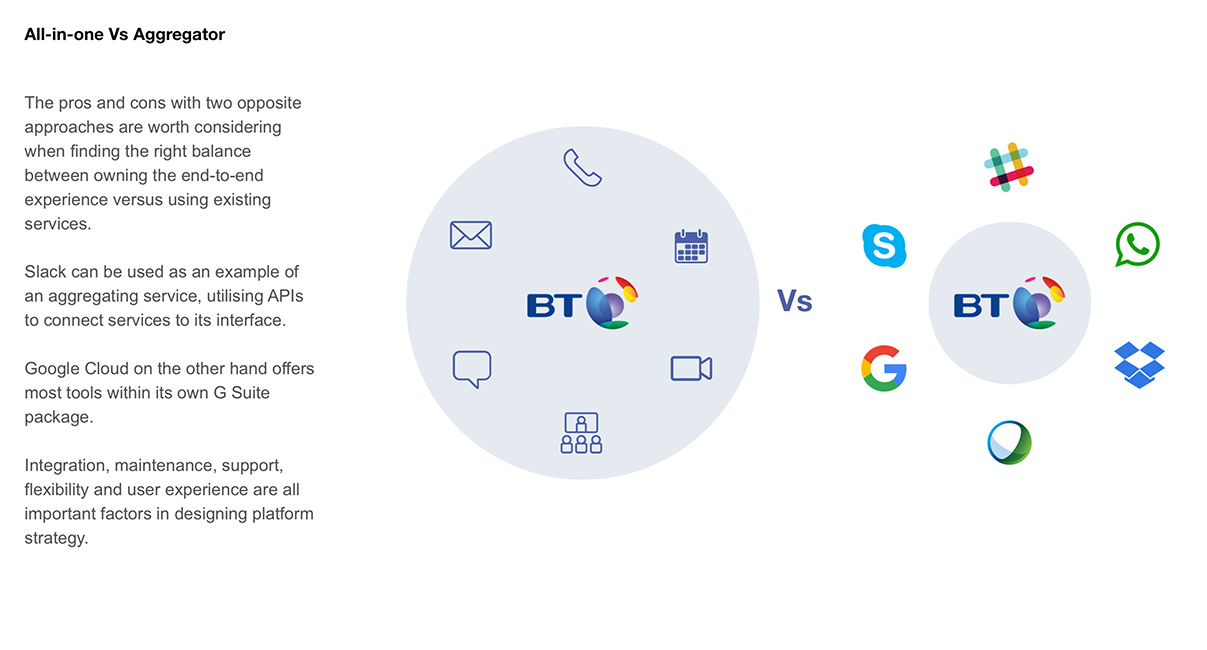 After a workshop with the stakeholders we honed the scope further and settled on the 0 to 10 employees SME segment with a focus on mobile. We also identified a set of key user journeys for this segment.
In order to guide the ideation work ahead of us I defined a North Star vision to conceptualise around, and created a set of pen-portrait SME's to identify various needs and permutations of the user journeys.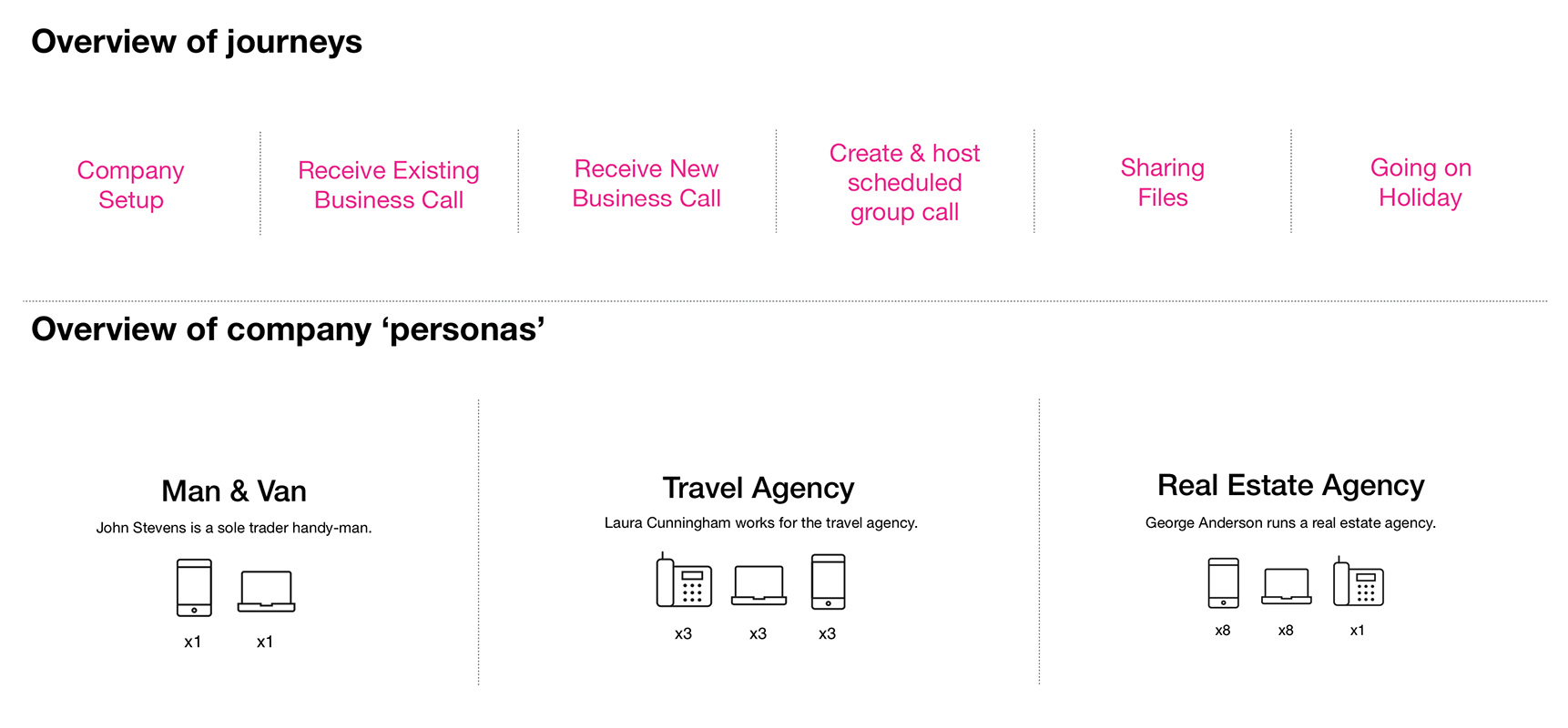 I also identified five value areas based on insights from BT's internal team: Quick set-up, Work-life balance, Efficient communication, Flexible pricing and Increased convenience.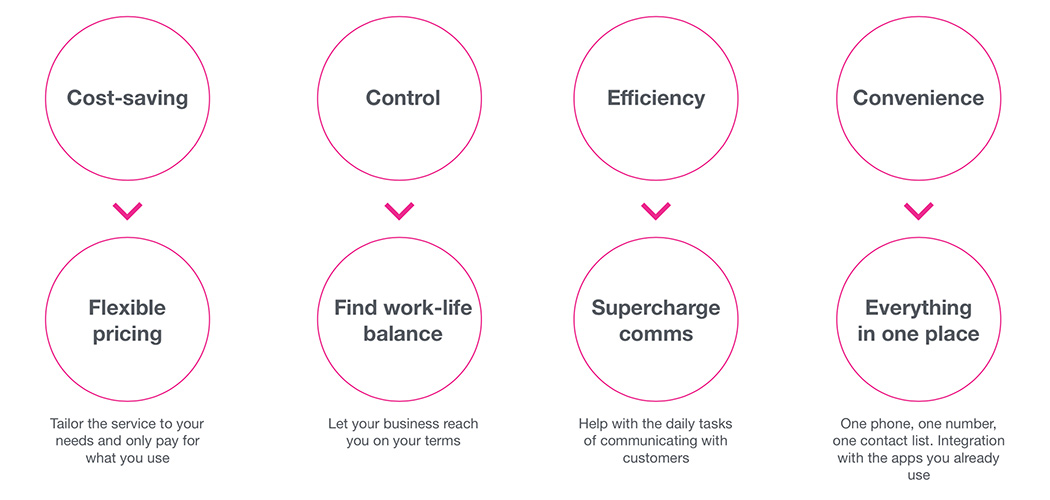 With the ideation scope defined, I worked through the user journeys together with a colleague and came up with various ways of completing each step. This generated a bunch of ideas that we clustered in groups of the value areas.
We tweaked our journeys so that each journey contained key features that corresponded to a value area. By sorting the features into journeys to illustrate value areas we would have a clear path through the prototype, systematically highlighting the benefits of the concept rather than creating a big sand-box of features that the audience might get lost in when shared within BT.
After a round of feedback from BT and an iteration of the journeys we progressed to design the final UI of the concept app.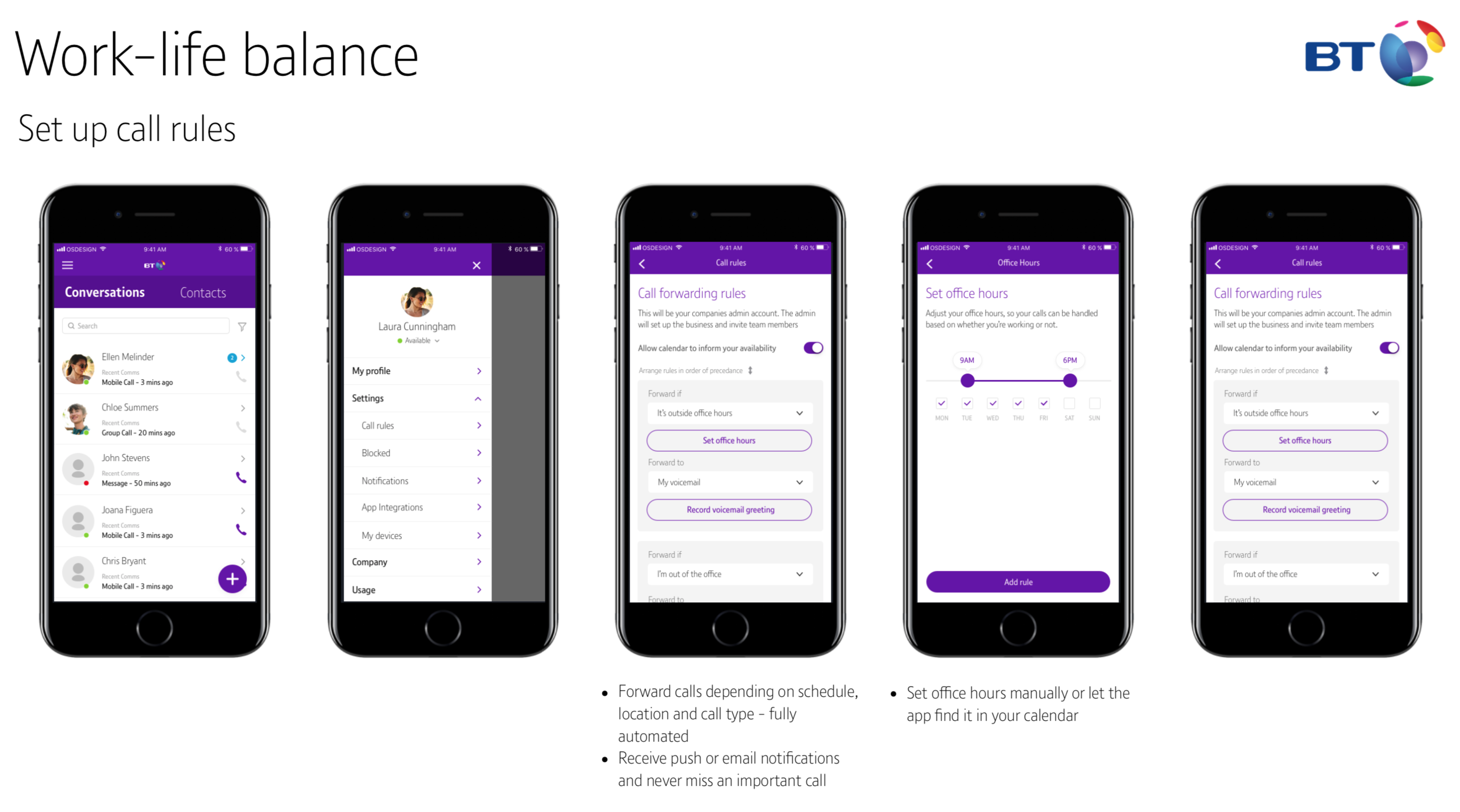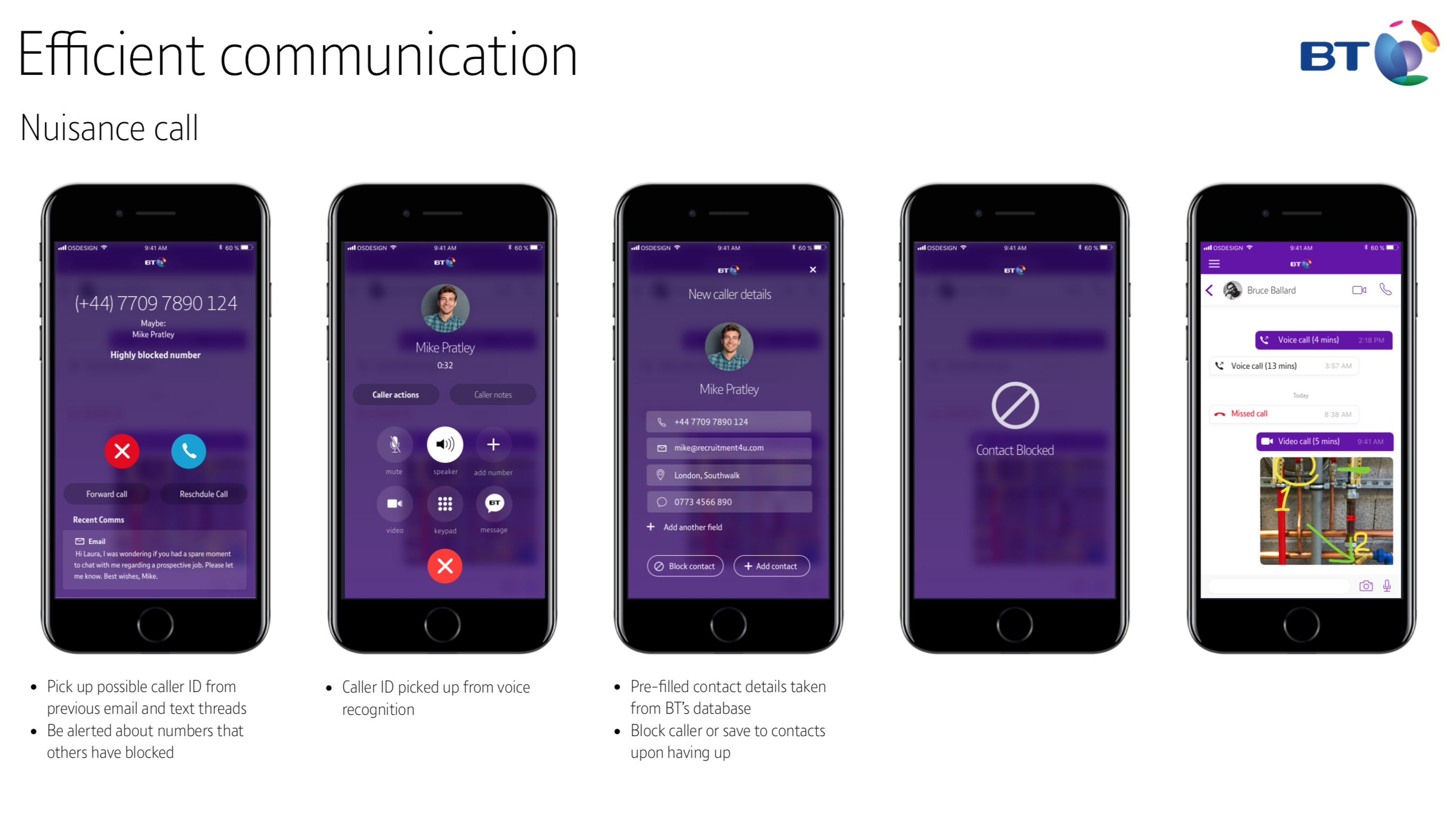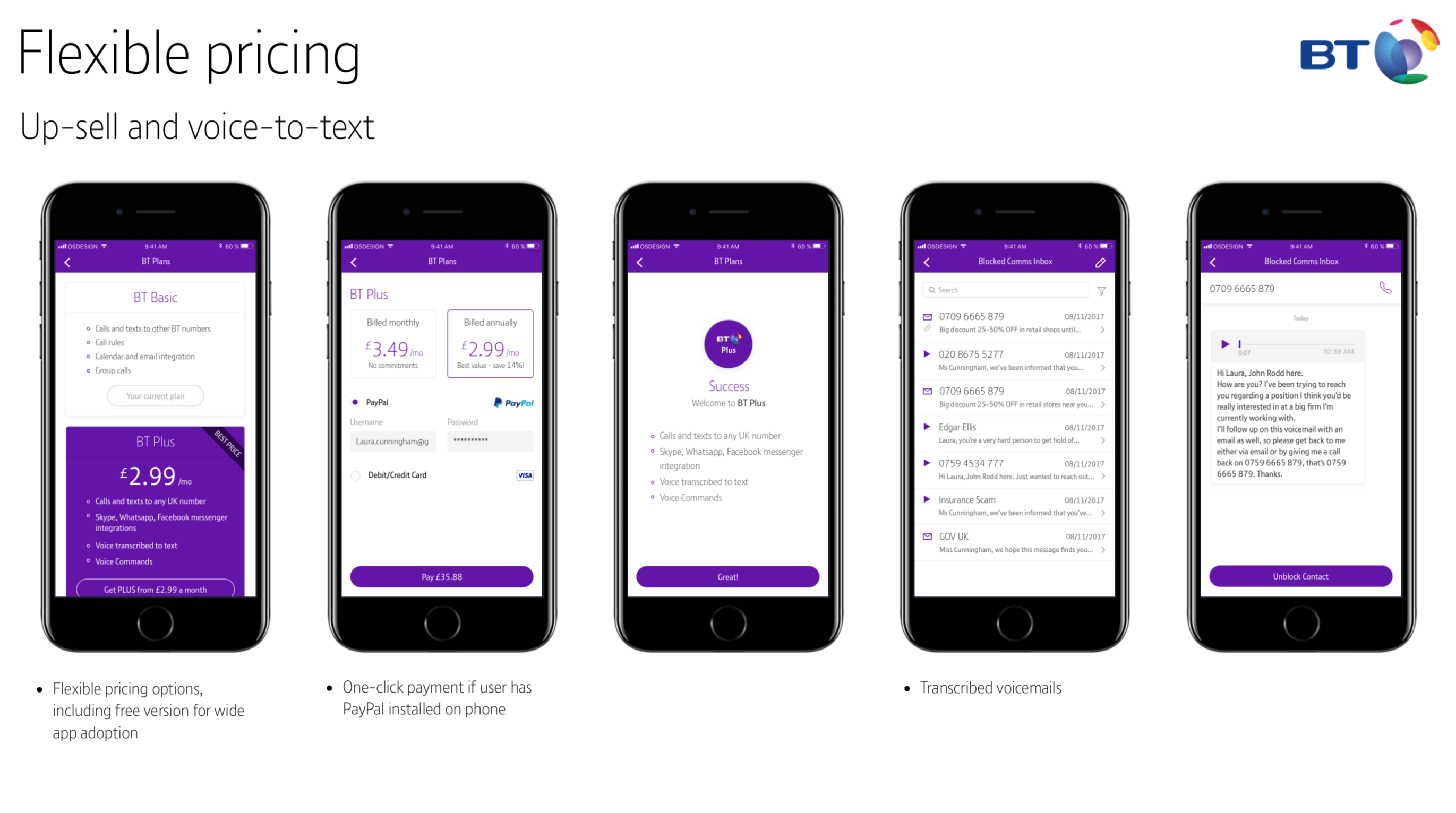 With the UI designed I worked with my visual designer to put together the scenarios and outline for the final deliverable; a deck with animated scenarios highlighting the key features of the app.
Right before Christmas we did a final content review with BT and updated the deck just in time for the holiday break. The concept was well received and lead to continued work with BT Business in the new year.
Because of an unclear brief and the stakeholders not being well aligned internally there was a distinct lack of focus, especially in the beginning. I wish I could've had more collaboration with BT, working closely together in defining the scope. In the end we managed to get where we wanted, but with more collaboration and a clear sign-off procedure we could've been even more focused.