How to make one of the best kitesurf trip planners on the planet
Use all growth hacks in the book to make Globalkitespots.com one of the Top 10 most visited online resources for kitesurfers.
Tutti! Everything from product vision to content creation and sysadmin.
Global Kite Spots is an online travel planner for kitesurfers.
The idea was born in 2013 when I was planning a kitesurf trip for June. Kitesurfers rely on wind to practise the sport, so in order to find a good destination I had to trawl through dozens of online spot guides.
That's when I realised how good it would be if there was a site that would list kitesurf spots by month rater than location.
Global Kite Spots launched a few months later after some intense desk research, quickly put together on a WordPress template. Four years later the idea had proven successful and the site had grown organically to see over 4000 visitors per month – a fairly good number for a niched site. I documented the initial design on Behance.
With increased interest shown from local businesses I thought there was an opportunity to take Global Kite Spots to the next level and introduce a business model based on local ads displayed for each region.
In order to do so I needed to update the experience and make it a more useful and delightful place for visitors, and a more attractive place to be seen at for advertisers.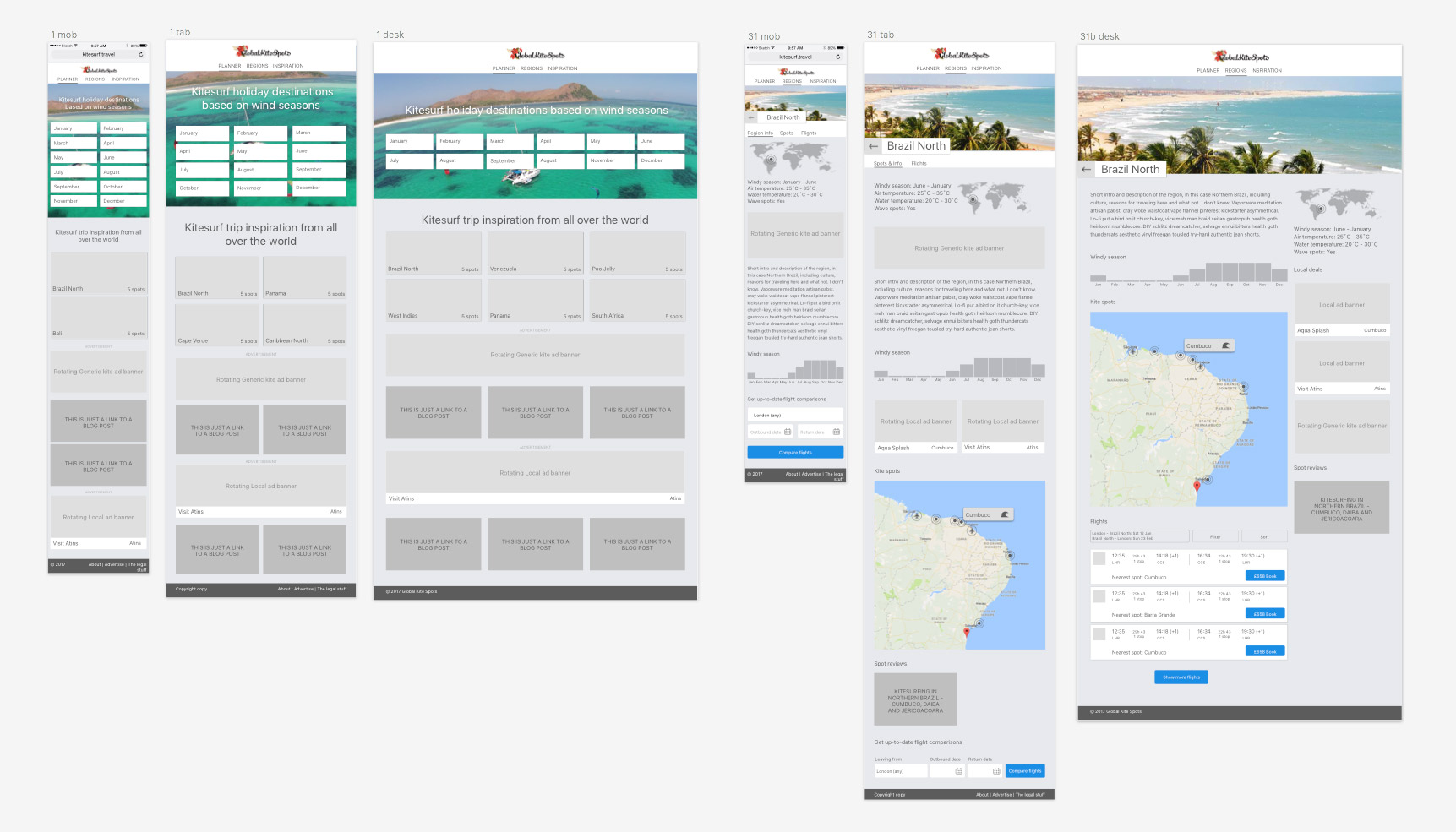 Visual facelift and more focus on imagery content, without sacrificing performance
Make site fully responsive and mobile-friendly
Prepare for direct ad sales business model
Global Kite Spots is made completely with WordPress templates and plugins. I don't write code and had to rely on what's available out-of-the-box.
Thankfully the WordPress plugin library is massive and I could reach a result good enough for launch without compromising too much on the initial intent.

The new design was launched in 2017. I had managed to meet all my objectives and was ready to scale up both content and marketing efforts.
Further optimisation efforts
Global Kite Spots has always done well in Google search ranking, but with the new site in place I completed a thorough SEO audit working with the Yoast plugin on every single page and post.
I also conducted two user surveys with 380 site visitors each for statistical significance. Here I learned what information my visitors were looking for and what could be improved on the site.
The number one thing asked for was more spot guides. Apparently I was on the right track – I just needed to add more quality content!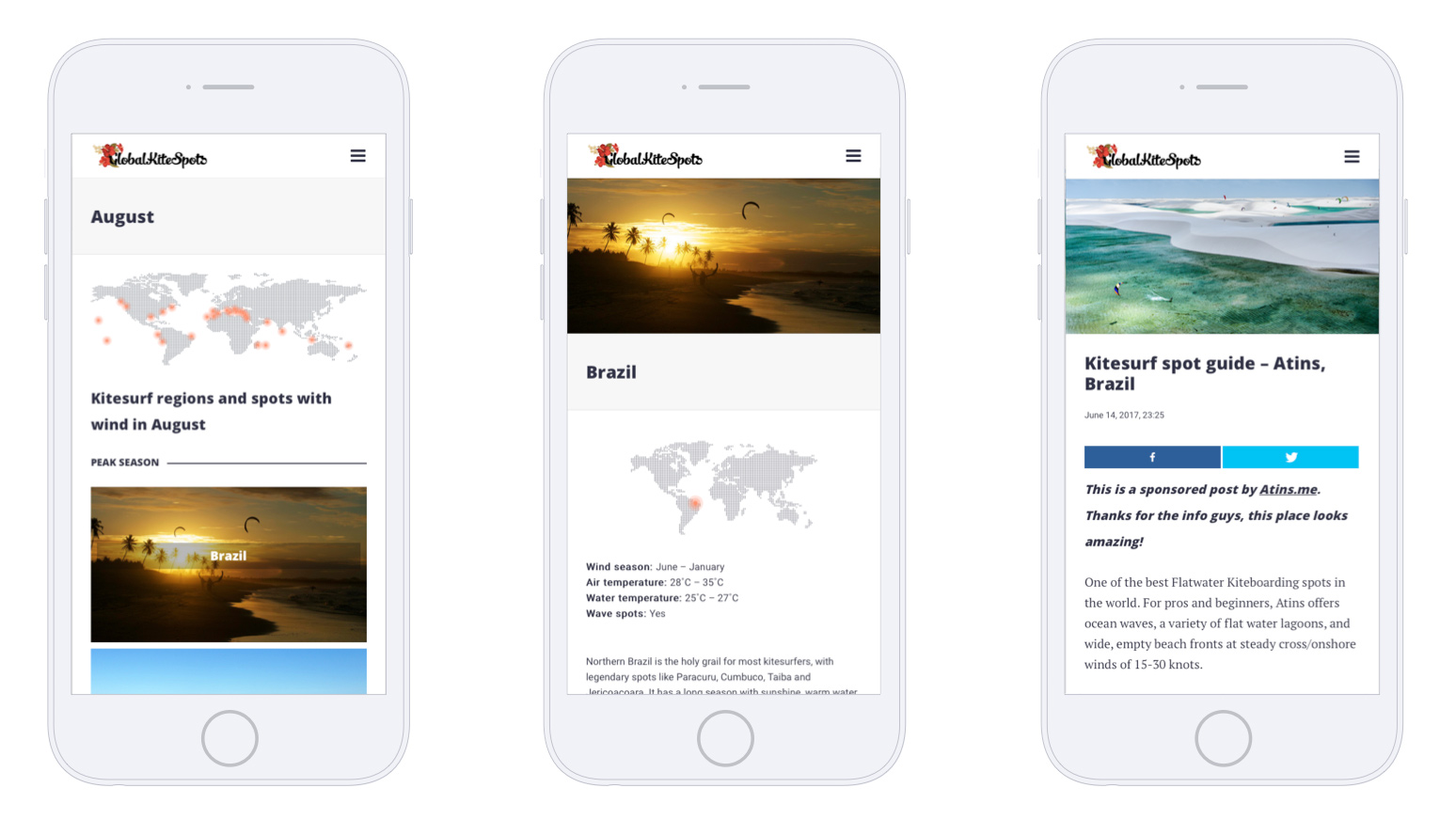 In 2018 I was seeing a healthy number of monthly visitors. I was traveling the globe, writing a lot of content myself, and I was also receiving both sponsored and guest posts.
Everything was looking ok, but I still hadn't hit the tantalising 500 users per day milestone. I knew I had to do more to grow.
Germany is a massive market for kitesurfing. The Germans love this sport, and considering how little coastline they have, they are a perfect target group for a site like Global Kite Spots.
So far I had only targeted English-speaking litesurfers. If I could only tap into the German market I would easily take the monthly visitor count to the next level.
Adding multi-language support to your site is not that straight forward. Simply put, thanks to WordPress it can be very effortless or very cumbersome, depending on what approach you choose.
After a lot of research and plugin comparison I settled for GTranslate. They're not the cheapest but they offer URL translations which was essential for SEO. And they had good reviews.
In hindsight I am happy with my choice. It allowed me to, not only have Global Kite Spots professionally translated to German, but also add pretty much any other language you can think of, with translations hosted on their AI-powered servers.
Did it help visitors count? See for yourself: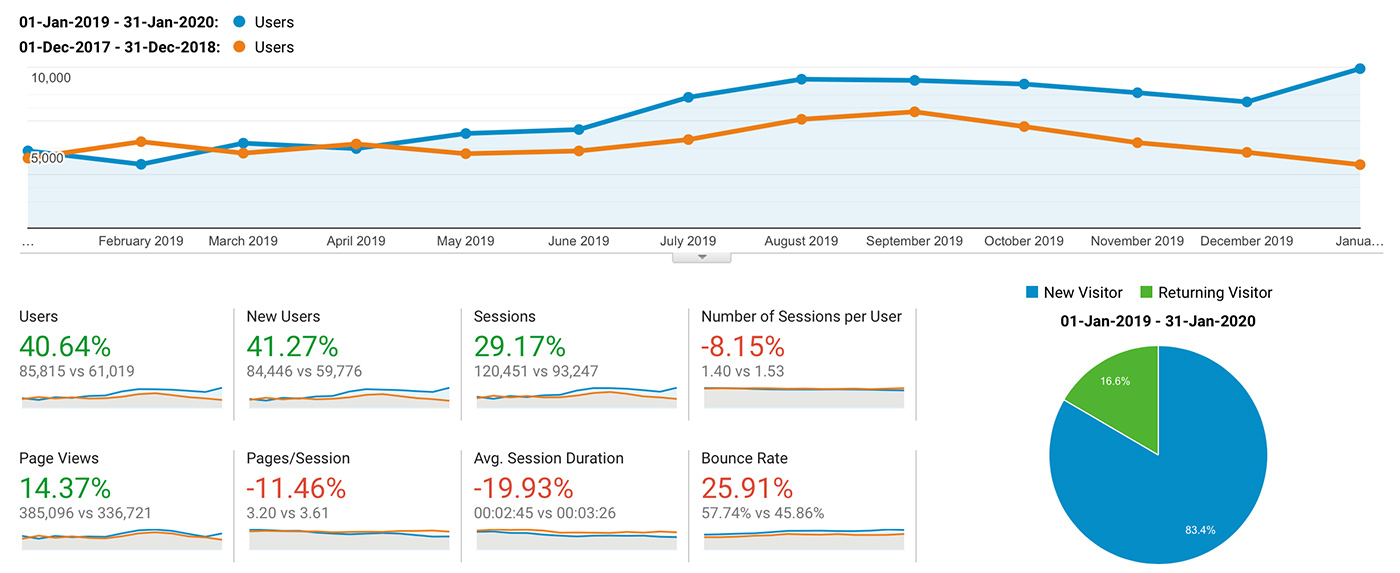 Global Kite Spots is the perfect tool where I can apply theory and learn by doing.
Digital product design is so much more than UI design, and I'm always trying to add more length to my T-shaped knowledge profile.
With Global Kite Spots I'm actively keeping up with and learning about online marketing, SEO, writing, photography, CMS, A/B-testing, Social media and Google Analytics.
…and if you wonder where I ended up that summer in 2013; I went to Rhodes and had an amazing holiday with wind every day!